Hey guys, as I promised you in my previous article that I will write an  article on best Bengali movies of 2011, 2012, 2013 and soon. so here we go. I am going to write an article about top 10 best Bengali movies 2012. The movies which are mentioned below are really really good to watch. I hope this will entice you to watch some and don't forget to share your personal experience with us.
According to you, if you want to add any best Bengali movies of 2012, then please do let me know by writing in the comment box. I make assure you that I will definitely add that movie to the list. Please leave comment or feedback if you think differently and have something in mind which you want me to notice. Your comments or feedback are most welcome! Let's start:
Best Bengali Movies 2012 Which You should Definitely Watch
10. Chorabali (2012)
Director: Redoan Rony
Writer: Redoan Rony
Stars: Indraneil Sengupta, Joya Ahsan, Shahiduzzaman Selim, A.T.M. Shamsuzzaman, Sohel Rana, Shamina Nazneen
A thriller movie with several plots running parallel to each other. Thriller movies need proper music to spice up the scene and Dibyendu Mukherjee has done extra-ordinary work in music. The background music is good.  With the volume getting high you get goosebumps. There are few super interesting scenes. All the actors have done justice to their roles.
Read Also: Top 10 Best Bengali Movies 2011
This is one movie that is going to change the way you look at Bengali movies. The story starts with a retro themed party hosted by the city's celebrity psychiatrist, played by George Baker. 8 people having some kind of dark past are invited. They start playing the game of cards and during their game it is discovered that the host has been murdered. The movie revolves around finding the murderer. Seems simple? But its not. The movie keeps you on the edge of the seat and director Subhrajit Mitra hardly gives you a scene to move your eyes off. He has done a brilliant job. A very well directed movie that you have seen in the recent past. It is one of the best Bengali movies 2012. Its an intelligent movie. Hope to see such good movies in times to come.
Best wishes from Team MovieNasha-Filmy Addiction
9. Shabdo (2012)
Director: Kaushik Ganguly
Writer: Kaushik Ganguly
Stars: Ritwik Chakraborty, Raima Sen, Chruni Ganguly, Victor Banerjee, Srijit Mukherji
Shabdo,in english meaning "sound" was, is and always will be one of the best films ever directed in the history of bengali cinema. Kaushik Ganguly,a director of bengali film industry, is always known for his direction of different, unique and intensified films which deals with ever unique story lines. The main subject matter of the movie is sound and a very unique problem faced due to sound,by the lead character,Tarak. Tarak played by Ritwick Chakraborty, was a sound artist who gradually gets lost in the world of recreation of sound effects. So, the main matter of the movie is displayed in the title, which therefore executes it's purpose. The title hence is justified.
Read Also: Top 10 Best Bengali Movies 2013
The storyline of the movie is unique, interesting as well as seat grabbing. It focuses on Tarak, a foley artist who gradually gets lost into the world of virtual sound amplification. He slowly becomes numb towards human voices and begins to focus more on the recreation of sound effects of his surroundings. Director kaushik Ganguly, brings the problem out with justification,and also signifies a solution, out of this situation in a very unique way.
8. Paanch Adhyay (2012)
Director: Pratim D. Gupta
Writer: Pratim D. Gupta
Stars: Dia Mirza, Priyanshu Chatterjee, Anubrata Basu, Soumitra Chatterjee, Sampurna Lahiri
Paanch Adhyay, the movie marks the Bengali language debut for Bollywood actress Dia Mirza. The movie is divided into 5 different parts, each having different names. The story is about relationships in between 3 persons, Arindam, Ishita and Ranjabati. Each part deals with the relations between these 3 lead roles of the film. In the first part, we witness the meeting of Arindam and Ishita, and how he wins her heart eventually. The first part is romantic and heart-touching, unlike the other parts. The romantic saga of the director and the teacher is the main subject of the first part.
Read Also: Top 10 Best Bengali Movies 2014
In the next part, Arindam falls in love with the new heroine named Ranjabati. However, he successfully manages to make his marriage sustain inspite of the affair with the heroine. However he feels gloomy to think of leaving Ishita and settle with Ranjabati. Though Arindam does not love Ishita anymore, but Ishita still is a doting lover and cares for him. The later parts deal with Arindam and Ishita's relationship after their marriage. Soon after, things change for worse. But the end is optimistic. The film is a medley of emotions and thoughts which Pratim has tried to put into the right places.
7. Muktodhara (2012)
Director: Shiboprosad Mukherjee, Nandita Roy
Writer: Nandita Roy (screenplay and story)
Stars: Rituparna Sengupta, Nigel Akkara, Bratya Basu, Debshankar Haldar, Kharaj Mukherjee
Muktodhara is an intensely moving spectacle where reality and fiction coalesce seamlessly. Muktodhara is basically about a criminal and the story of his reformation. I want to mention the favorite part about the whole movie- the Valmiki-Pratibha element. It was very fitting that the play they decided to stage was about Valmiki, and that it was a play written by Rabindranath Tagore. The way they portrayed the story became a play within the play, where we see Yusuf as the bandit Ratnakara who later becomes the great sage Valmiki and Niharika as Saraswati, the Goddess of Wisdom who gifts him with the inspiration to write the Ramayana.
Read Also: 20 Best Bengali Movies You Should Definitely Watch
And the play itself was pretty amazing (yes they really did the whole play at the end of the movie) with the powerful and moving song sung by the bandit as he comes to realize the truth of the sin he's about to commit. The lesson here? Even the great sage Valmiki himself was once an incorrigible criminal; so if he could reform and eventually write one of the most beloved Hindu epics ever written then perhaps there is hope for the rest of the criminal class? It's a must watch movie. Go, Watch and Share your experience.
Download: Muktodhara
6. Macho Mustanaa (2012)
Director: Reshmi Mitra
Writer: Surajit Bhattacharya (screenplay)
Stars: Hiran Chatterjee, Pooja Bose, Arun Bandyopadhyay, Rajat Ganguly, Shantilal Mukherjee, Bibhu Bhattacharya
Macho Mustanaa, a romance film featuring real life car blasts and underwater shooting off Mauritius, is the most expensive Bengali film till date with a budget of Rs. 7 crore. The movie boasts as many as eight real car explosions, not through special effects, in a particular chase sequence which never had been attempted before in Bengali films. Also there are 24 action sequences in the film which is another record as far as Bengali films are concerned.
Read Also: Top 10 Best Bengali Movies 2015
The film had been hyped as a dynamic action film which would see Hiran in a new completely new 'avatar' and it would be all style. The film is about Nabab and his crazy family who are close knit. He comes across Diya by chance on the streets and they have a crazy day out together escaping from goons employed by her father to get her back. Her father does manage to get her back, but Nabab's life turns hell. He is framed on false charges and put behind bars..To know more, you have to watch the movie.
5. Idiot (2012)
Director: Rajib Biswas
Writer: Abhimanyu Mukherjee
Stars: Ankush Hazra, Srabanti Chatterjee, Aditya Pancholi, Debjani Chattopadhyay
Idiot movie is based on relationship between a brother and a sister and a rich girl and a bad boy. It's a story of Love and Hate and in single word Idiot is a romantic movie. Aditya Pancholi is portraying the character of Srabanti's elder brother and high profile business man. Srabanti is playing the role of "Anjali" belongs to a rich family. Ankush is playing the character of "Samrat" belongs to a middle-class family of Rajabagan colony. Samrat is a character of spoil child who drinks, return home at late night etc.
Read Also: Goopy Gyne Bagha Byne Movie Review (1969)
Samrat having all bad characteristics that a girl wouldn't imagine. His life changes when he sees Anjali and falls in love with her at first sight. After meeting her over protective brother, his life changes even more. Here comes the twist in the tale. The rest of the story of Idiot wouldn't be revealed here and you should go and watch the movie. The movie is a super hit at the box office.
4. Hemlock Society (2012)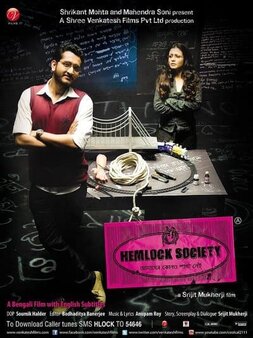 Director: Srijit Mukherji
Writer: Srijit Mukherji
Stars: Koel Mallick, Parambrata Chatterjee, Rupa Ganguly, Deepankar De, Silajit Majumder, Saheb Chatterjee
A very different story line where the protagonist runs an institute training aspiring candidate to execute their right to euthanasia! Writer/Director Srijit Mukherjee in his third venture after Autograph (A tribute to Satyajit Ray ) and Baishey Shrabon teamed up with Parambrata Chatterjee, Koel Mallick, Rupa Ganguly and some wonderful actors to tell this unconvincingly true story.
Read Also: Top 22 Bengali Old Comedy Movie List You Should Undoubtedly watch
If you managed to miss the show, make sure you watch this as you are still alive in 2016! The name is inspired by the erstwhile Hemlock Society, a society which was based in Santa Monica, US. The primary missions of this society included providing information to dying persons and supporting legislation permitting physician-assisted suicide. Hemlock Society is the society that teaches the right techniques to commit suicide!!
3. Na Hannyate (2012)
Director: Riingo Banerjee
Writer: Based on The Great Tangsan Earthquake by Zhang Ling, Riingo Banerjee (screenplay)
Stars: Rahul Banerjee, Priyanka Sarkar, Roopa Ganguly, Debshankar Haldar, Sayanti Datta, Chaiti Ghoshal
The film "Na Hannyate" shows a tragic story about a woman, her journey of 30 year life. The toughest part in her life was, when she has to choose between her two kids in the middle of life and death. The film traces the life and journey of a woman hit by a tragic incident where she loses her husband and comes to believe that her daughter too is no more. Somehow she manages to save her son and lives on to survive all odds. But constant pangs of remorse bite deep. The story covers a long journey of life with so many drama.
Read Also: Bengali Movie Aparajita Tumi Review (2012)
There are many unacceptable facts, but over all a very good presentation and off course superb performance by every characters. A must watch for those who love to see Bengali Movie industry doing something different day by day. Na Hanaytte boasts of some good special effects. The crumbling down of the old building where Jui's family lived, is impressive. The camera capturing the aftermath has also been handled well.
2. Bhooter Bhabishyat (2012)
Director: Anik Dutta
Writer: Anik Dutta, Deb Roy
Stars: Sabyasachi Chakrabarty, Parambrata Chatterjee, Paran Bandopadhyay, Swastika Mukherjee
Bhooter Bhabishyat (English: Future of the past or future of ghost) became one of the biggest hits of 2012 among the Bengali movies. It is actually a film with a supernatural element. If you are a fan of black comedy, then Bhooter Bhabishyat is the perfect film for you. It is a story of Ghost and meant to be a comic entertainer. The story revolves around a haunted house which is being pulled down and being replaced with a swanky shopping mall. Apparently, the ghosts who belong to different era consider this as their home so what happens later on shapes the rest of the story.
Download: Bhooter Bhabishyat
1. Television (2o12)
Director: Mostafa Sarwar Farooki
Writer: Anisul Hoque, Mostafa Sarwar Farooki
Stars: Shahir Huda Rumi, Chanchal Chowdhury, Mosharraf Karim, Nusrat Imrose Tisha
Television is a Bangladeshi comedy+ drama movie which was selected as the Bangladeshi entry for the Best Foreign Language Film at 86th Academy Awards, but it was not nominated. Television may take its name from an old-fashioned character who believes TV is evil, but in 2012, Busan closer also mirrors a more forward-thinking trend in the film sector in Bangladesh: the development of homegrown movies from telefilms.
The director Farooki said that he still cannot define the genre of the film, which mixes comedy, drama and satire to tell the story about religious views and generational gaps. Actress Nusrat Imrose Tisha, who is married to Farooki, said she was excited to show how the roles of Bangladeshi women are changing through Television. It's really a good movie to watch for everyone. It was first of all very entertaining as a movie, in both its subject matter and storytelling.  It was selected by not only BIFF but also representative experts from around Asia for the Asian Cinema Fund. One of the best Bengali movies 2012 which you shouldn't miss it.
Stay tuned with us with more Bengali movies related articles. Take care my movie addicted lovers and readers.
20 Best Bengali Movies You Should Definitely Watch
Top 10 Best Bengali Movies 2011
Top 10 Best Bengali Movies 2013
Top 10 Best Bengali Movies 2014
Top 10 Best Bengali Movies 2015
Goopy Gyne Bagha Byne Movie Review (1969)
Bengali Movie Aparajita Tumi Review (2012)
Top 11 Must watch Indian Detective Movies